This is blog two of ten about the interesting subject of Rose Quartz. Available here on the website blog and Patreon publicly. The other nine will be on Patreon. For anyone wanting to check out EPJ's Patreon, please see Patreon.com/EvilPawnJewelry
Like many deep dive posts from 2014, I want to take on a deeper dive into not only the metaphysical properties of Rose Quartz, but I want to add what Birthstones combine with Rose Quartz for maximum effect. Some stones are like polar opposites and other are like magnets attracting. This is dependent on which Level a crystal is. I have posted about this on Patreon, and this weekend I will have a large post about bundles and combinations. For now I want to go into the truths about Rose Quartz Properties and lay down a foundation for a deeper understanding of this stone.
Think of all that we think we know about Rose Quartz. It is pink, it stands for love, it is in the level one quartz family, etc. The interest in Rose Quartz is all that hides under those layers of pink. The layers are much like the Rose flower, even in full bloom there is a center hidden from all of us. A place the sun never sees.
First, let us speak about what is known and true about the stone. Once we have this foundation laid down, we will speak of what is rarely in the light, but in plain sight. The layers of rose quartz, delicate, but strongly symbolic.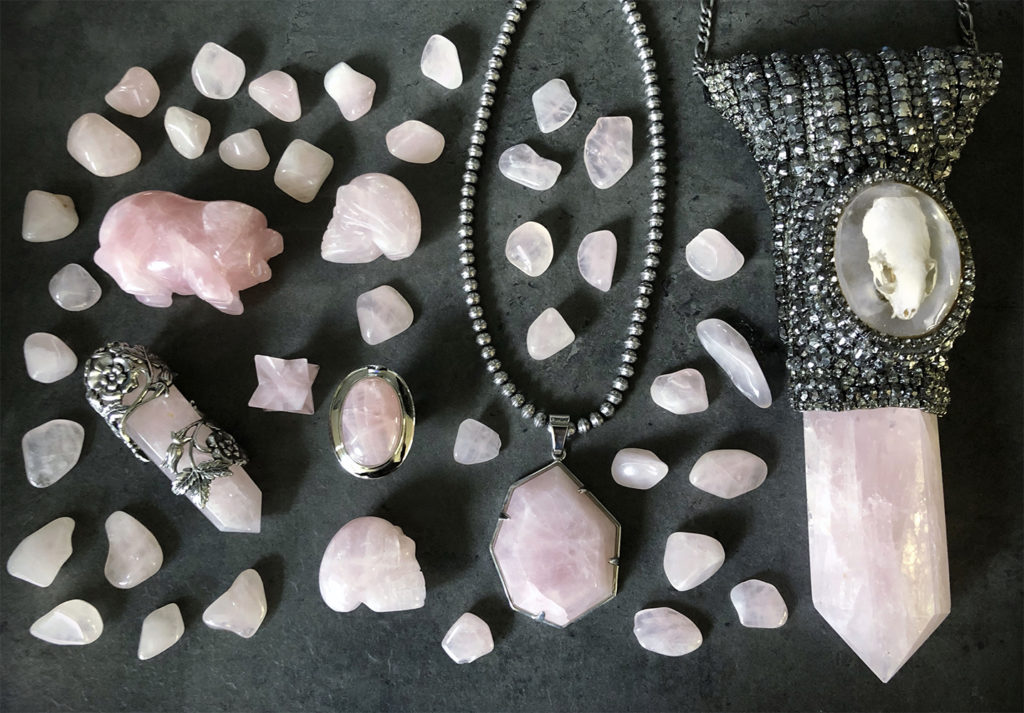 One part that is known; rose quartz is a stone of the heart and unconditional love. All love, all hearts, all categories of all love.
One part that is of old; A token of relationships. Attracting new love, strengthening an existing bond, and driving away all those who truly do not love you. Especially those that wear masks of another face for their own benefit.
One part that is unrealized; Some can use this stone, as a protection talisman, to keep people who do not love you far away from you. A protection device. Energy and color therapy of rose quartz can repel and help break some long time associations from walking alongside you on your path. Freeing you from emotional and psychological vampires that constantly feed off of you. A dissolvent that can free you, even when you are unable to free yourself.
One part that is practiced; A stone with energy relating to the heart chakra, giving you the best tools to clear all of the dark sides pertaining to the perceptions of love that isn't really love. Clear out the hurt, resentment, and false love that has disguised itself before you wearing a mask. These things have nothing to do with love and shouldn't be associated with it. Trust and love freely. Those who take it to a dark place do not live in love but try to make you think this is a part of love or the 'dark side' of love that does not truly exist. This is for their own benefit, not yours. If they have you believing this is so, then you will not practice love for the fear of hurt. Hurt does not come with true love. (Not speaking of the 'passing of a loved one'. This is a different kind of healing. What I am speaking of pertains to standing relationships that bleed because of ego) Let go of all dark perceptions of love. There is only a dark side of the moon. The heart is a place of bright water always and the sun never sets there in that one place.
Hop onto Patreon to check out all ten posts about Rose Quartz! From cleansing and concentrating the stone, charging, combination/helper stones, Birthplate placement for Geminis and Scorpios, Metaphysical Properties, shape meanings, Symbolic language of direction, and more. All posting this month and next! Happy Week's End!