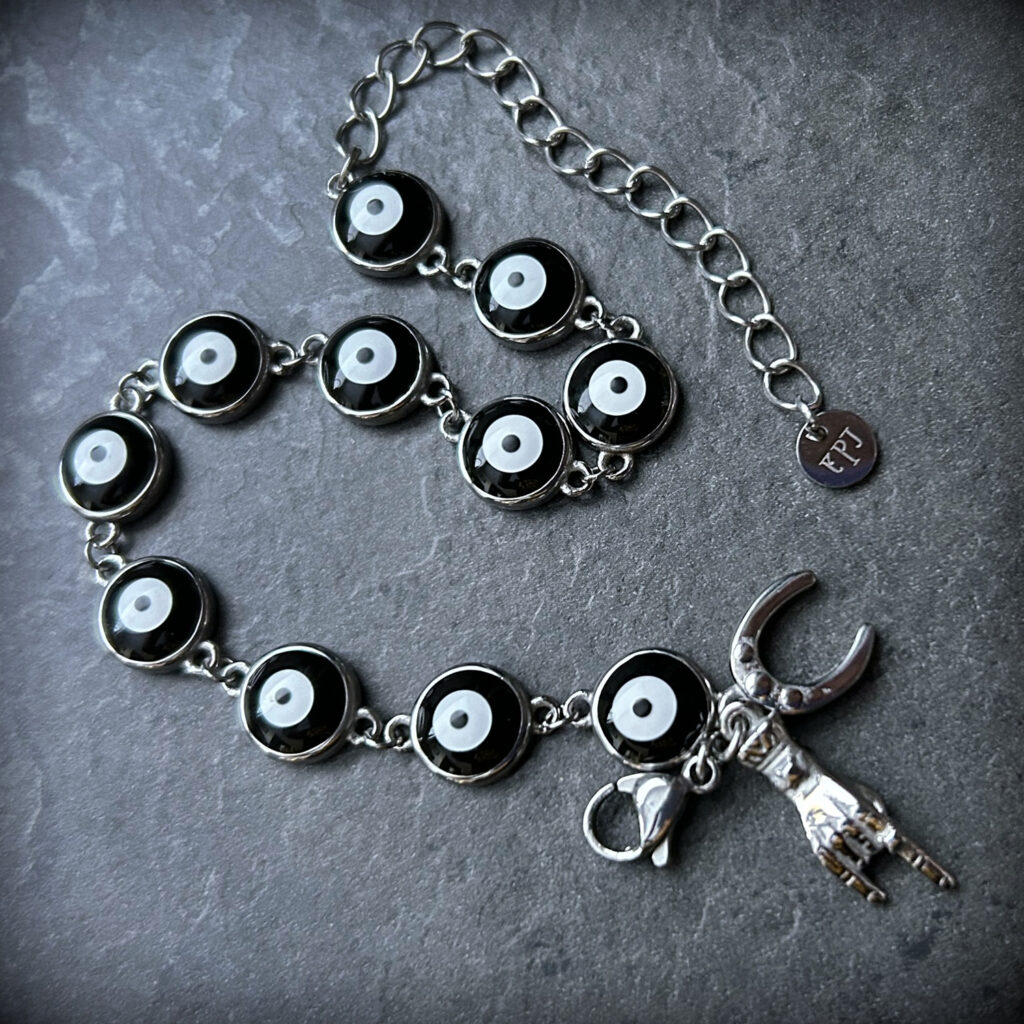 Over the last year, I have shared little sneak peeks and works in progress for this bracelet aligned with an Evil Eye Info Series on Patreon. This bracelet was a labor of love and a long-time wish. I have had several Evil Eyes bracelets in my lifetime, but the metal was usually a base metal that turned my wrist green. Or Sterling silver that can turn me black, tarnish so badly that cleaning it was impossible, or the bracelet would break because of the metal the adornment was made out of.
I was also wanting more than just an Amulet. I wanted a concentrated piece. A piece that was made as a talisman and not just for fashion. Sometimes it is unknown if the item was moved with the planets or just made. I wanted color magick, numerology, and symbolic language all in one. Finally, thanks to all of you, it happened.
They will only be available in black. No other colors will pop up. A modernized version to some but in color therapy, black deflects and at times, absorbs and neutralizes.
They are hypoallergenic stainless steel, so I can leave them out on my dresser and not have it turn a thick copper-black color that I have to rub intensely with a cloth for the color to shine through. Steel comes with protection properties, and being a Level Two it enhances the surrounding intended purpose.
Made with numerology and in a talisman fashion in accordance with the planets, this makes this beauty a talisman and an amulet combined. 11 Eyes to invoke awareness along with numerology in the measurements of the eyes and charms. Each eye is 9mm, the horseshoe charm is 10 x 10mm, and the Malocchio is 18mm. I put every possible symbolic language into this piece to make it as energetically efficient as possible in protecting and guarding.
This is the Evil Eye Bracelet that I always wanted and imagined. Thank you for assisting me in manifesting my vision. Many Bright Blessings and all of my love.