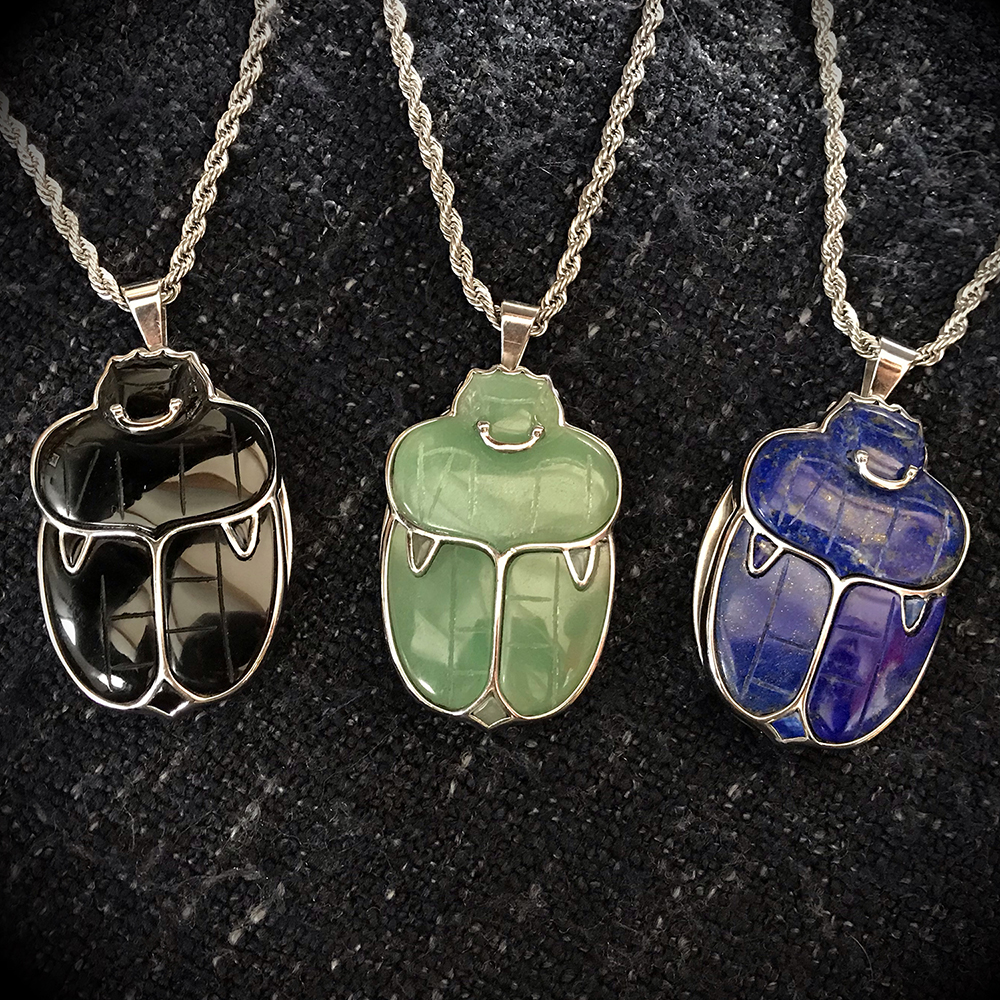 So excited about today's long awaited new release! The Saqqara Scarab Amulet Necklace is an accolade to the gods of Egypt and the brilliance attributed to scarab symbolism. The stones have been carefully cut and inlaid into a hypoallergenic stainless steel scarab frame. I hand selected the stones before they were cut specifically to the shape of the pendant. All Scarab stones were charged with New Moon river water to pay homage to Iah. Each Scarab has different stored energies depending on the stone matching to scarab symbolism.
I have always been a huge fan of Aventurine and have dedicated a series to this stone in past blog posts. These stones were picked for specific shades of green, invoking color therapy, that plays into the scarab symbol. The Scarab's alignment with aventurine carries a symbolic language of "Opportunity" and manifestation of favor with fate. The Scarab will find exactly what your life's desire is and help you manifest it. Like the Cat, the Scarab can walk between the worlds, there isn't a place the scarab can't go to seek out your desire.
More times than not, I have used onyx as a protective charm in past collections. Having pieces made of real onyx can be beneficial to long term mental health. Protection is self care. The Scarab's alignment with onyx carries a symbolic language of "Protection" and absorption of negativity or darkness. The Scarab will work closely with your life guides; shielding you from negative eyes and absorbing jolts meant to harm you. Even when the veil is thick, the scarab can penetrate through and link you to your protectors.
Stones properties seem to shift slightly when shaped or used symbolically. Lapis Lazuli's properties seem to shift more than any other stone when shaped. Different grades also effect these properties greatly because specific energies are taken out of the equation. This Lapis Lazuli has very little Calcite (White coloring) in grade. The Scarab's alignment with Lapis Lazuli carries a symbolic language of "Inner Power" and the awakening of the true self. The Scarab reaches backwards in time and through the veil harnessing the power of your ancestral line. Pulling from it, the endurance to push forth and rise to your becoming. The scarab's back reflects the night sky and that same sky is reflected in your eye. You are all and all is you.
Happy Week's End and Many Bright Blessings!