'When the night burns bright to an unbroken ring around the moon, hold on to Tiger's eye to keep you safe until noon.'
I love old sayings about stones. My Grandmother told me several when I was young, this one included, but I love to research all of them. The ones I know about and the ones I do not. The first thing I do in researching the Old Ways is to learn where the saying came from. What region on this planet was it first recorded? This particular saying was found often by the Scottish settlers of the Americas in the early 1700s. Often found in the Border Ballad tradition, seemly the most effective way for a tradition to stay alive as many were pressured to assimilate into the American ideology. Another popular saying about Tiger's Eye, equally spread by the songs of Appalachia in the same timeframe, also came from seeing a ring around the moon. 'When there's a ring around the moon, rain or snow is coming soon.' Now it is commonly called a "halo effect" but the symbolic language still lives and breathes. The halo often tells of prediction and depending on the placement of the stars… danger. When the ring is seen, it was known to grab a Tiger's Eye and carry it the three days of the full moon. Tiger's Eye is about "seeing."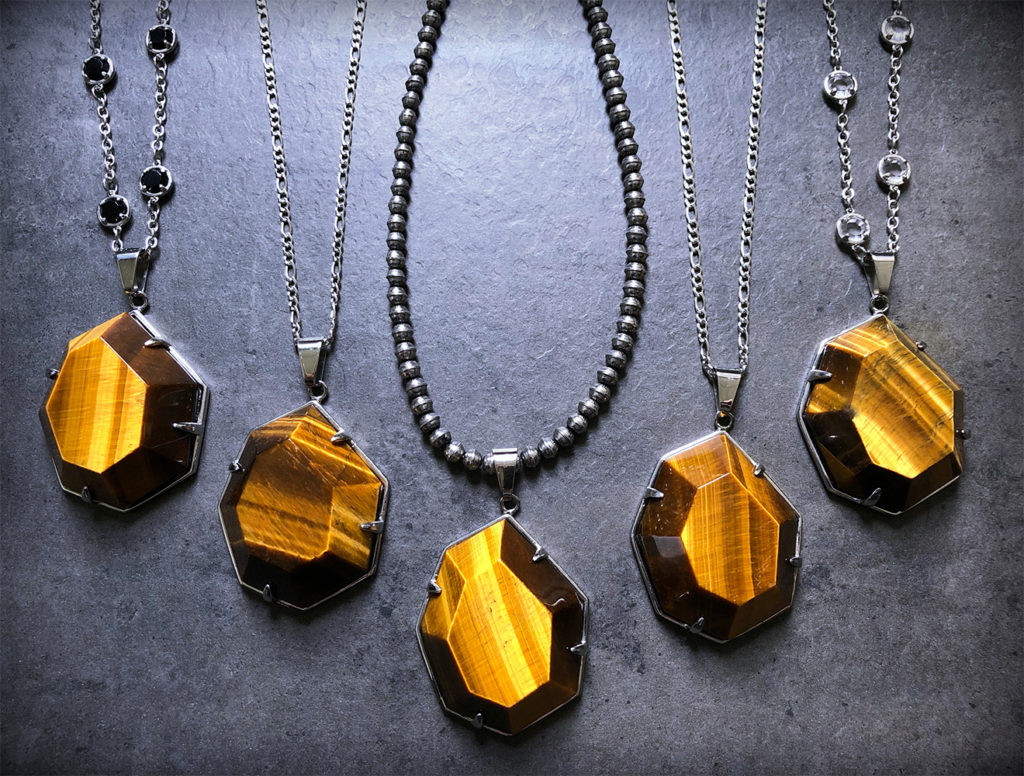 Upon further research, it is found that these same uses for Tiger's Eye were found in the Middle East and the Mediterranean. Many believe the Romans may have brought these beliefs to Britannia a millennia before. Seeing that the gemstone of antiquity to Britannia was the Smoky Quartz and could be traced back to a thousand years before the Great Pyramid of Giza was built, it makes it unlikely. Still possible but unlikely.
It does seem like the "7 Stones" were shared by the world's heritage in some strange universal way. Oddly, every culture and every civilization used the 7 Stones in the same way. Tiger's Eye being one of them, it would not be surprising if this stone's lore wasn't brought from place to place, but known universally by the people of the world. Predominantly found in Africa but also found in Australia, Brazil, Bruma, Canada, China, India, Korea, all about the Middle East, Spain, and the United States, but even found amongst cultures in places it was not naturally occurring. For example, Tiger's Eye was highly associated with the early Freyja cults of the North. Of the first discoveries, researchers associated this with Middle Eastern trade that was known to take place between the cultures; being that Tiger's Eye was highly-priced in Middle Eastern and Egyptian cultures, they could have shared the wisdom and the stone. It was said that traders may have brought this stone and its lore back with them. There are a few anthropology essays looking into this possibility. Upon further study, it has been noted that Tiger's Eye has been found in graves of antiquity far before any kind of trade was known. The 7 stones defy all rules and timelines known to man.
Tiger's Eye has always been associated with protection in each culture, but this is sometimes misunderstood. Many believe Tiger's Eye to be a stone of protection in the sense that is guards or shields you from negativity or low vibrational energy. This is not how it protects. Tiger's Eye protects you by showing you what is. This can be the future of what is to come, the truth behind friendships, the clarity that is hidden under a foggy situation, or even an overview of the picture. Similar to seeing above like a bird or viewing a map. Tiger's Eye gives you the Eye to make a plan. If more protection is needed besides "knowing" then Tiger's Eye must be combined with another stone for protection. Usually a Level 3 stone or higher. For a protection bundle; it is best to use stones for each all-around protection. Example: Protection for the aura, protection from the physical, protection from the mental, etc.
I will continue with six more posts about Tiger's Eye on Patreon. I will cover clearing, charging, cross crystal combinations, and directional wear of the stone. Tiger's Eye is a great ally and Level 1 helper crystal. An All-Seeing Eye.